Deadlands: Epitaph #3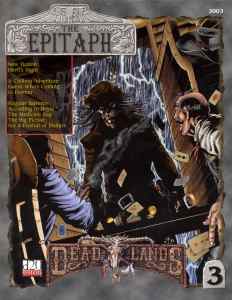 Supporting material for all Deadlands lines.
Includes overview "The Big Picture" by John Goff and John Hopler. Includes Weird West adventure "Guess Who's Comin' to Donner" by John Goff. Includes table of full moons for Weird West and Hell on Earth "Bad Moons Risin'." Includes monsters, spells, weapons, and more for all lines "A Fist Full o' Stuff: Featuring Varmints!, the Medicine Bag, and For a Fistful of Dollars" by ?????. Includes Hell on Earth short story "Devil's Night" by John Hopler. Includes errata and clairifications for the
Lost Colony Showdown
collectable card game "According to Hoyle: Lost Colony" by Zeke Sparkes. Includes Weird West D20 adenture "Rats in the Maze" by Rob Lusk.