Gigi's Cupcakes
Gigi's Cupcakes: 6/10. Too much frosting and forgettable cake.
Madison finally got a cupcakery, so clearly the fad is just about dead. We've gotten a Gigi's Cupcakes franchise.
If this is representative of the cupcakery fad, I have no idea why it caught on.
Problem 1: Nobody reads Cake Wrecks. "Chocolate icing, when squeezed out of a pastry bag, looks like poop. Always. Exhibit A: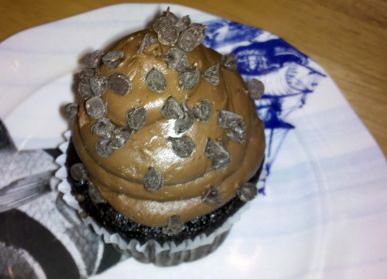 Problem 2: Too much frosting. I like frosting. A lot. The chocolate frosting was tasty and mellow, so I was happy, but I was still a bit frightened at the mass of icing perched atop the cupcake. Because there is so much frosting, you can't eat it out of hand. Tellingly, in the store they serve cupcakes in bowls with utensils. Once you've eaten some, the cupcakes tend to fall over as they are too top-heavy. Eva got a cupcake with vanilla frosting. It was the sweetest frosting I have ever eaten. Eva could only eat a small amount of it. She offered me the rest; I had perhaps a quarter of it before giving up. Too much sweet.
Problem 3: Forgettable cake. It's not a bad cake, but it wasn't a great cake. It wasn't particularly moist. It wasn't particularly flavorful. It felt like it was just a foundation to hold frosting. It's a cupcake, not a frosting cake.
You can get better cake in Madison. The Hubbard Avenue Diner usually has some. Don't bother with Gigi's.
This page can be discussed over in my comments. There are currently comments.