Indianapolis, Indiana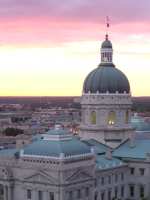 Gen Con is now in Indianapolis (or at least one of the two new Gen Cons is).
Overview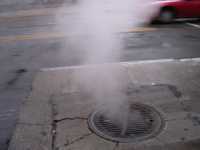 Indianapolis is a great convention city. The convention center is large and primarily single story. A multi-story convention center can really hamper traffic, important for gaming conventions. There are many hotels nearby, many of them connected to the convention center by skyways. While getting hotel space nearby in Milwaukee way always hard, it wasn't a problem in Indianapolis. Two friends of mine were able to book rooms with three blocks of the convention center just a month before the convention. (In Milwaukee hotels within five blocks were filled six or more months in advance.)
Driving from Madison is irritating, but I can appreciate why the move was made. Indianapolis is much better suited to a 25,000 plus gamer convention.
Food
Jillian's
Rating: Poor
We had dinner here. Jillian's is a chain of "entertainment" themed restaurant and bar. Gillian's has several floors dedicated to video games, a club, and the restaurant. The signature mixed drinks were tasty and the food is okay, but the atmosphere is unbearable. The entire place is loud enough to give you a headache and eliminate any hope of maintaining a table-wide conversation. Your line of sight is filled with big screen televisions, adding to the headache. The waitstaff was decidedly mediocre. I suggest avoiding Jillian's.
Additional review courtesy of Michael Zenke.
Buca di Beppo

Rating: Highly recommended
Chain restaurant.
Official Buca di Beppo site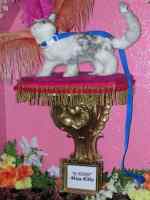 We had dinner there. Buca di Beppo is a chain that really feels local. The food is excellent and served in monstrous family sized proportions. Individual entrees are expensive, but they will easily feed three very hungry people. Our waiter was a great guy and helpful. The decorations are quirky and feature a shrine to a stuffed kitten and a bust of the Pope in the center of one table. No paper menus, they're painted on the walls. The men's restroom is covered with "toilet humor" (including lots of... full moons) and has a continuous audio track of two women chatting in italian. I'm told that the women's restroom is extremely pink and has an audio track of two men chatting in italian.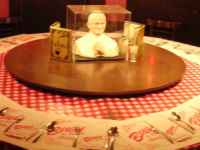 All that aside, the food was excellent and generous. Ordering several entrees and sharing with the group allowed everyone to try everything. A definate treat and worth a visit.
Additional review courtesy of Michael Zenke.
Claddagh
Rating: Good
Chain restaurant.
The restaurant was well recommended by several locals. Unfortunately, after a massively botched reservation, we were unable to eat there. It doesn't bode well for the waitstaff that they took a reservation from us apparently in spite of a policy against it. It bodes worse that the manager was rude when he refused to honor it. They appear to have a "We've got a two hour wait, so we can be rude to customers" attitude.
I've still never been to the Claddagh in Indianapolis, but there is now one near my home and I've eaten there. Since it's a chain, the experience is probably similar. The decor is a nice stereotypical representation of an Irish pub. The food is unusual but tasty for a chain. They have a good selection of beer. It's a solid option for food a bit more unique than Italian and Tex-Mex.
Deco (gone)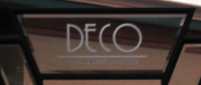 Rating: Recommended (for breakfast at least)
(The Adam's Mark has been bought out and Deco replaced, so this review is no longer relevant.)
Deco is the in house restaurant in the Adam's Mark hotel. They maintain an exceptional breakfast buffet. It's a bit pricy, but the selection is great. There are multiple chefs ready to prepare omelets, eggs, pancakes, and waffles on request as part of the buffet. The only weakness is that the buffet does not include any juice, you'll need to order it seperately. I'm planning on returning in the future.
Additional review courtesy of Michael Zenke.
The Porch
Rating: Average
Hyatt Regency Indianapolis Porch site
The Porch is one of the Hyatt's in hotel restaurants. We only tried breakfast and were disappointed. The breakfast buffet was dismal. The selection was meager and the oatmeal gruel-like. There were no pancakes or the like in the buffet. I strongly recommend against the breakfast buffet. That said, the service was excellent and food ordered from the breakfast menu pretty good. The atmosphere is quite nice, taking advantage of the Hyatt's huge indoor atrium.
Additional review courtesy of Michael Zenke.
Alcatraz Brewing Co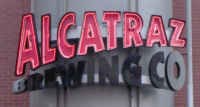 Rating: Average
Official Alcatraz Brewing Co site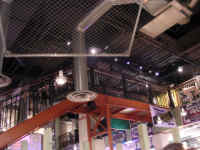 A local microbrewery and restaurant. Apparently the decorations are supposed to evoke a prison, but fails completely. The beers were okay, nothing really grabbed me. The food is typical bar and grill food.
Additional review courtesy of Michael Zenke.
Palomino
Rating: Mediocre
Official Palomino site

Well recommended by locals and friends, the food was fine, but I'm not convinced it was worth the $16-$33 a plate price. That said one incident of extremely bad customer service has left a foul taste in my mouth.
Additional review courtesy of Michael Zenke.
Steak 'n Shake
Rating: Good
Chain restaurant.
Official Steak 'n Shake site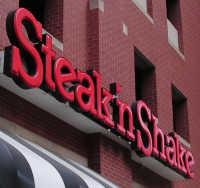 Open 24 hours, Steak 'n Shake is great for late night runs. The burgers and chili are really good. The fries are very thin, some of my friends really like them, but they don't do much for me.
Hotels
Marriott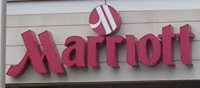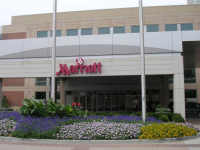 Several friends stayed at the Marriot and had positive views of it. The Westin is directly connected to the convention center by skyway.
In 2003 some seminars were held in the Marriot. The Marriot also hosted both of the anime screening rooms.
Adam's Mark Hotel (gone)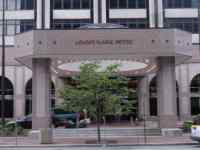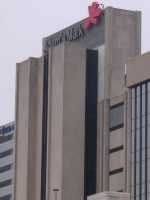 (The Adam's Mark has been bought out and replaced.)
Several friends stayed at the Adam's Mark and were very impressed with it. The room was huge. The complementary soap and shampoo was a high quality brand name. Service was high quality and consistent. Parking was relatively cheap at about $9 per day. It's a block and half from the convention center and does not have skyway access. The Adam's Mark restaurant, Deco, has an exceptional breakfast buffet
Hyatt Regency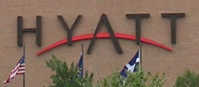 Official Hyatt Regency Indianapolis site
I stayed at the Hyatt in 2003. It's comfortable enough. The breakfast buffet at their in hotel restaurant The Porch, was mediocre at best. The Hyatt is across a corner from the convention center. The Hyatt is connected by skyway to the convention center, but the skyway takes a brief detour through a parking garage.
Canterbury Hotel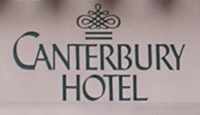 Official Canterbury Hotel site
Westin

Official Westin site
Omni Severin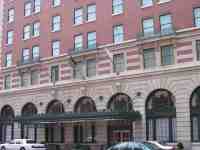 Small, but nice rooms. It's comfortably close to the convention center. Note that some maps indicate that there is a skywalk connecting the convention center to the Omni. There is, but the skywalk goes through the mall. First, if you're wearing unusual clothing you might not want to be cutting through the mall. More importantly, the mall has traditional hours, so if you're gaming late the skywalk will be closed.

Other Sources
Want more information? Check out these sources:
Updates
2007-09-11: Typos fixed (and probably more added). Added information on Claddagh, marked Deco and Adams mark as being gone, noted which restaurants are chains, delete link to site that is gone.