Michael's restaurant reviews for Indianapolis, Indiana
The reviews are courtesy of Michael Zenke. You can find my reviews here.
Alcatraz Brewery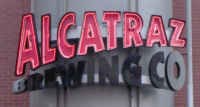 The Alcatraz is located on the ground floor level of the Circle Center Mall. It has a large, open area on the ground floor, with a bar area at the "back" of the restaurant and a full second level of seating above the first. The atmosphere is very casual, and the noise level with 3/4ths of the restaurant full was an acceptable level. The decor was an interesting modern type, with a vaguely prison theme throughout. Not remarkable, but not hideous either. The food was pretty typical bar/grill food, with some interesting twists.
Selections from the menu:
Nachos (Good reaction)
Hot Wings (Mediocre reaction: Flavorful, but not spicy)
Waffle Fries and Gorgonzola (Good reaction)
A small pizza with a spicy sauce, onions and meat topping. (Good reaction)
A tortellini in a white sauce with vegetables (Very Good reaction)
A jambalaya (Good reaction, interesting flavor, nice sauce)
A pulled pork sandwich (Very Good reaction)
Rating: 3 Beer Steins
The Porch - Hyatt Regency
The Porch is an open air restaurant that takes advantage of the Hyatt's expansive atrium. The atmosphere is very relaxed, and even with a full house the noise level would be quite low because of the large space. The decor was dull corporate, intended to blend into the background. The food we had at the time was a breakfast buffet, and various breakfast meals. No information on lunch or dinner.
Selections from the menu:
Breakfast Buffet (Mediocre reaction: Runny oatmeal, so-so scrambled eggs, boring muffin)
Waffle (Good reaction)
Pancakes (Very Good reaction: Light and fluffy, but very filling)
Porch Sampler (Good reaction: Pancakes, eggs, hash browns, sausage, bacon)
Rating: 2 Pancakes
Buca Di Beppo's

Buca's is a small, warren-like restaurant with a distinctively italian flair. The atmosphere is very relaxed, but with the small space if the restaurant was very full the noise level would likely be quite high. Decor was "family style", with large tables, plentiful napkins, wine bottles and menus on the walls. The food was served family style, meant to be shared, and was extremely good and very filling.
Example meal (Party of 8 people): (All items had very good reactions)
Appetizers

Bruscetta
Garlic Bread (Very good, large slices of garlic right on the bread)
Caesar Salad (Distinctive flavor, came with anchovies on the side)

Entrees

Spicy Sausage, Pepperoni, and Onion Pizza
Lasagna
Tortellini
Rating: 4 Buckets of Spaghetti
Adam's Mark Rooms and Suites Breakfast Buffet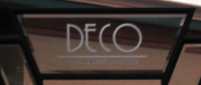 The Breakfast Buffet area is simply a section of the Adam's Mark lobby set aside with tables and chairs. Atmosphere is relaxed, and although the lobby is not as large as the Hyatt atrium, it is unlikely that noise levels would reach unacceptable levels. Decor is boringly corporate. The breakfast foods selection was excellent.
Selections from the menu:
Omelets (Good Reaction: Made fresh by an omelet chef to order)
Pancakes (same)
Biscuits and Gravy (Mediocre reaction)
Rating: 4 Biscuits
Palomino

The Palamino is a quiet, pleasant restaurant that bridges the ground between fine and casual dining. Atmosphere is generally relaxed, but the general attitude suggests a certain elegance. The restaurant's attitude is such that noise levels are likely to go beyond acceptable limits. Decor is extremely attractive, dark wood walls with dramatic lighting and bright white table-cloths give you the feeling of being someplace comfortable but well thought-out. The wait-staff dressed well and were very courteous.
Reservations Recommended.
Selections from the menu:
Bruschetta Sampler (Very good reaction)
Penne Gorgonzola (Good Reaction)
Spaghetti and Meatballs (Very Good Reaction)
Rating: 3 Glasses of Wine
Jillian's
Jillian's is a chain of restaurants focusing on the sports bar/dance club scene. It is a multi-leveled building, with a bar on each floor and a different focus to each level. (Gaming, Dancing, eating, etc.) Atmosphere is gaudy sports bar, lots of neon and bright colors, and noise levels began at uncomfortable and became simply unbearable as the restaurant filled. You could not hear a person speaking if you were sitting next to them and they were facing away from you. Decor was all wood and linen, and ugly. The wait-staff was pretty lackluster.
Selections from the menu:
Bacon-Cheeseburger (Mediocre Reaction)
Sausage Pizza (Mediocre Reaction)
Chicken Fingers (Mediocre Reaction)
Rating: 1 Loud, Obnoxious TV