Gen Con Indy 2003 Trip Report
DRAFT: This is a work in progress.
City Guide to Indianapolis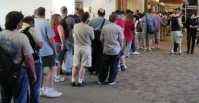 On-site registration lines were insane! Several hours long Thursday morning and Saturday morning. Each person would head to the front of the line tell the temp labor their name and address. The temp labor would slowly enter the information and wait for the computer to finish.

This is the exact same brain dead system in place several years ago. Previously they were smart and you filled out a form while in line, gave the temp the form and some cash, and immediately got a generic badge. It was fast and pleasant. This sort of idiocy will discourage people who haven't pre-registered. This was a decided decline from 2002 where the lines appeared to peak at fifteen minutes long. (Update: Peter Adkison, owner of Gen Con, promised to improve. See below.)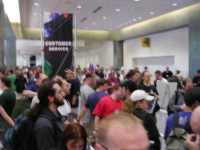 My badge and tickets weren't at the Will Call line. So I was directed to the Customer Service line. Normally this wouldn't bother me, these things happen. But the Customer Service line took and hour and ten minutes. During the entire time I was there one man and his son were at the desk, when I left they still didn't look like they were done. The line was slowed by the printer running out of ink and other details I don't know. I'm lucky I didn't have an 8:00am event, I would have missed it (I arrived at Will Call at 6:45, which should have been plenty of time. I finally got out of customer service around 8:15.).
Ran into some problems at the Claddagh restaurant. The person on the phone took our reservation, but when the arrived we discovered that they don't take reservations. Bloody incompetant. Needless to say, we didn't eat there.

Visited many restaurants to mixed results. My City Guide to Indianapolis covers them. I would like to highlight Buca di Beppo for an exceptional dinner and Deco at Adams Mark for a very high quality breakfast buffet.
Indianapolis is clearly better suited to a convention the side of Gen Con than Milwaukee. That said, the local businesses are obviously still learning to cope with the... weirdness that is Gen Con. I think the convention center was still a bit floored by people who were up all night. Still, it ran pretty well and while local businesses were a bit confused, they were positive and helpful.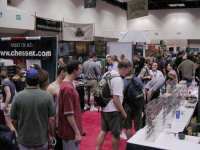 The exhibit hall seemed larger. It was full of interesting stuff (with the notable exception of the desolate Upper Deck zone.)
True Dungeon was a blast! It wasn't my dream LARP, but it far better than I would have expected was possible at a large convention. Absolutely worth $15 to play. Hopefully they'll return next year.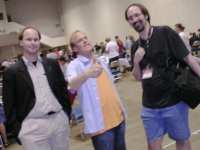 Michael Zenke noticed Adam Sessler while Brian and myself were in our normal stupor. Thanks to Michael we got to meet Adam, Brian groused about Morgan, and we got a picture with him.
I managed to get a nasty cut off a broken toilet paper dispenser. Got five stitches. Convention first aid was adequete. The nearby Methodist Hospital emergency room was pretty good and the doctor quite nice. In an interesting coincidence he had attended Madison for his degree.

Peter Adkison, owner of Gen Con, wrote an open letter on Gen Con Indy 2003. He's taken the registration line problem and many others to heart and promised to fix them. I've met Peter and he's a true gamer. I have faith that he'll try to do what is best for his fellow gamers.
Unsorted photos from the convention: